I was musing over my site figures for yesterday when a though occurred to me.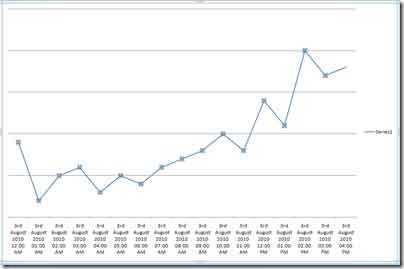 Wouldn't it be nice if I could predict how many people will be reading Head Rambles in say a year's time?
Now, who would be the best people to advise me on future trends, given an existing set of figures.  In a moment of sheer genius, I had the answer.
I phoned the Climate Research Unit at the University of East Anglia and asked for their help.
At first they were a little reticent, so I muttered the magic password – Freedom of Information.  It surely is a magic password, because immediately they couldn't do enough for me.
I sent them my figures, which apparently they call 'raw data'.  Almost at once, they had a few excellent suggestions.  They didn't like the first figure, for a start.  They said it was much too high, as nobody browses the Interweb at one in the morning, and that obviously it was in error.  I deleted it.  They also weren't too happy with the zig-zag bit and told me to smooth it out.  They apparently call that 'adjusted data'.  I smoothed it.  They then gave me the formula [or model, as they called it] and I put that in.
The result was quite staggering.
By extrapolating my figures, every single person IN THE WORLD is going to be reading my site by the end of the year. Isn't that amazing?  By the end of next year, every single human will have to read my site 1.496 billion times a day, just to keep up.
You have to hand it to the C.R.U.
They really know their figures.
And they are a university.
They couldn't possibly be wrong?