This is a simple question.
What use are guinea pigs?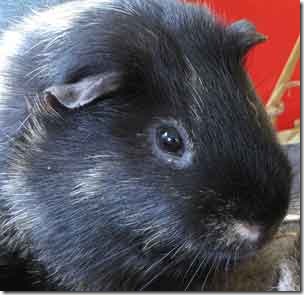 Minnie Pig.
Minnie joined our happy clan about six months ago, and since then she frankly has done fuck all.
I grant you she eats a lot.
She also squeaks and occasionally makes a whirring noise.
Apart from that she just sits there.
When we first got her, I did some research as I knew nothing about the species.  Apparently they are bred as a delicacy in South America, so I tried eating her.  Unfortunately, she kept jumping out of the frying pan, so I had to abandon that one.
Then I read that they are used a lot for research, in laboratories.  That sounded interesting so I devised a few experiments. 
I tried making her smoke a cigarette.  That didn't do much apart from making her cough a bit.  Now she's on forty a day, and it's costing me a fortune.
I tried some of our garden produce on her.  She just put a silly grin on her face and started singing Leonard Cohen songs, so I had to abandon that one quickly.
I tried using her as a tennis ball replacement to add a bit of spice to my games with Sandy.  That didn't work either, as each time she landed, she started eating more of the crop and insisted on singing Leonard Cohen songs again.
I have tried using her as a paper weight, but she just eats the paper.  She ate a fifty Euro note yesterday.
I tried feeding her some hormone tablets that I found lying around.  She just started asking about the size of her arse, and demanded to go shopping all the time, until I weaned her off again.
I'm stumped.  I cannot find a use for her.
Any suggestions?
I'll try anything.
As long as it doesn't involve Leonard Cohen.