I have taken the first plunge into the world of electronic smoking.
My new pipe arrived yesterday, to be added to my large collection of other pipes.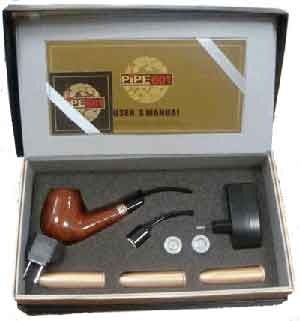 This one however is different.  Instead of gently filling it with tobacco and applying a match, I had to charge its batteries.
To an onlooker, unless they take a very close look, it appears to be a normal pipe.  The only really noticeable differences I found were that it was a bit heavier and larger than I was used to, and that there was no bowl to put tobacco in.
Once the battery was charged, I loaded it, and started puffing.
It was amazing.
There were clouds of 'smoke' and a grand flavour of tobacco off it.
I bought it on line from a company in Wales.  I must say I will be doing a lot of business with them, as they are extremely approachable and friendly, and they are also very efficient.  I hope they read this as they aren't paying me for advertising them, but what the hell – a couple of crates of cartridges wouldn't go amiss?  Heh!  The only thing I have to buy now are those cartridges.  A cartridge contains pure nicotine, which on the smokers scale of things is a relatively harmless chemical [compared to the other gunge you get in tobacco].  All I have to do is pop out the old one and replace it with a new.  You can get cartridges in different strengths and different flavours.
So what are the advantages of this new toy?
For a start, it is clean.  I don't need an ashtray any more, and my finger won't get ash on it from tamping the tobacco.
It is convenient.  All I need to carry is the pipe.  I don't need tobacco.  I don't need a lighter.  When I have finished, I just put it in my pocket.  When I want a smoke, I just take it out and puff.  It is going to be very handy in the car.
It is safer.  As it isn't lit, there is no danger of hot ash spilling.  The smoke itself is a hell of a lot healthier.
It's cheaper.  I haven't worked out the precise costs, but the cartridges are a fraction of the price of a pouch of baccy.  And I can laugh in the face of future budgets!
The NicoNazis can't complain.  This is probably one of its best features.  I can smoke it anywhere – in a pub, on the train, on a plane, in the cinema, even in a hospital.  No little jumped up do-gooding fucker can say a word as it does not constitute smoking under the legal terms of the anti-smoking law.  By God, but I'm going to have a lot of fun with that one!
Now, what about the disadvantages?
I suppose the biggest disadvantage is that I can't nip down to the shop for some baccy.  I have to send away for it.
Taste wise, it isn't exactly the same but it should be easy to get used to.
A big disadvantage is that I have to be sure to carry a spare battery and cartridge at all times as if either of those run out, I'm bunched.
I'm going to hold on to my old pipes of course, and will still have a puff of the old stuff but I can see myself using this new one a lot.
We live in interesting times.