Tomorrow we are to asked to bail this country out of its economic crisis.  A crisis, I may add that is not of our making.
We are told we are to expect an extremely tough budget, and the rallying call has rung amongst the hilltops that we are to be patriotic, bite the bullet and take the pain in order to save our country.
Who has put out this rallying call?
Our government.
This is the government that almost singlehandedly got us into this mess in the first place.
They pandered to the construction industry to an extent that our entire economy was based on a delusion of rising property prices.  They failed to notice the banks were also dealing in illusions of money that didn't exist.
If I am to help out the country at this time, I would like to know that the people who got us into this mess are also feeling the pain, and thus I come to the point of this musing.
This is a graph of salaries of various leaders:
You will notice that Ireland is in second place.  Our Taoiseach gets paid more than Brown, Merkel or Sarkozy.
This is shocking enough, but now I want you to take a look at the same figures, only taken relative to the populations.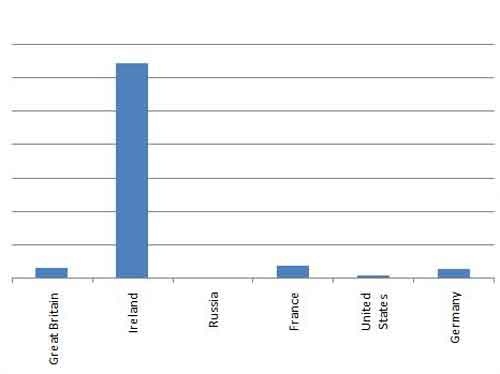 It can be strongly argued that countries like the U.S.A. can support a president on a salary of €292,000 because they have a population of around 304 million.  In fact, in Germany, France and the United Kingdom the average person pays around €0.3c per annum towards the cost of their premier.  In the U.S. they pay €0.01c.  Ireland pays €0.65c per head.
Each person in Ireland pays 67 times more that the Americans.  Sixty seven times more.
I am not suggesting that a leader should be paid according to population, but I am saying that a country of four million should not be paying more than countries of sixty one million.
And so I come to my question.
Will someone please justify the salary we pay our Taoiseach?
Can you give me one single reason why he is worth that much?
Can you give me one reason why he should take home such a massive salary while I take the pain?
Anyone?