Herself is moving up in the world
I know you are all intrigued by the work being carried out at Head Rambles Manor.  I haven't mentioned it in a while, because there was nothing to mention.
The job was completed some time ago, and I was just waiting on some final deliveries.
The last bits arrived today, so I am now waiting for the blind man to come and fix them in.
The blind man was here a few weeks ago.  He's a very nice chap, and I asked him whether he preferred to be called the 'blind man' or the 'visually impaired person' because in these days of political correctness, one can't be too careful.  He said that 'blind man' was fine with him, and he went on to show us a nice range of blinds for the windows.  They had to be made up especially, and they arrived this morning.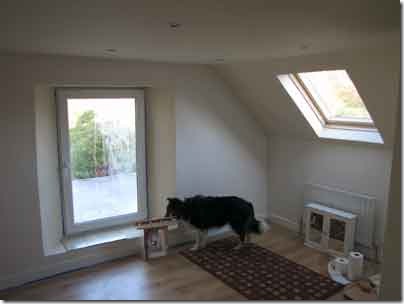 Sandy doing a final quality control check.
It's a lovely room.
The walls are solid granite, and the windows are made of shatterproof glass with full sound insulation.
It even has its own little toilet.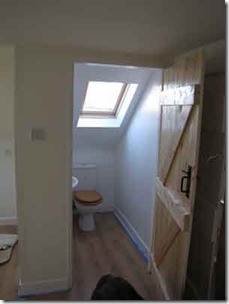 You could say it has all modern conveniences?
It has some extra features that aren't in the photographs, like a little food hatch in the door, which only has a handle on the outside, and there is a beautiful little cast iron ring embedded in one of the walls, to attach the chains to.
I hope Herself will be very happy up there.
I know I will be very happy down here.