I went off and bought myself a printer over the weekend.
First of all, I had difficulty finding the shop as it was in an office park that I swear wasn't there last week.  It's in an area that I know very well, as I use to hand out in the local pub there in my younger days.  However, there is nothing left of the old area, and I mean nothing.  Everything has been dredged away for motorways and new roads, and anything that once looked green has now been concreted over with endless apartment blocks, office parks and industrial estates.
I found it in the end, and took a stroll in.
I never realised there were so many different types of printers, so I poked around for a while until a sales bloke took pity on me.
Luckily, I knew exactly what I wanted.  I wanted a printer, a scanner, a fax and a scanner all in one.  I also wanted it to be wireless, as I was sick of trying to print things only to find that the PC in the office wasn't switched on.
The sales bloke obviously had never worked in a DIY store, because he was very helpful and found a machine that was exactly what I wanted.  What's more, it was less than €120 which wasn't bad.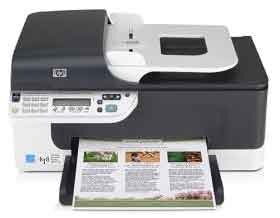 I brought it home and that's where my problems started.
There is an old cliché in the computer world that the solution to all problems is RTFM.  If you don't know what RTFM is, then Google it.  My problem was that there wasn't a FM.  There was a guide on connecting it, which was fair enough.  I had to use its cables rather than the old ones that I had been using, so I got myself tied in knots running wires and stuff all over the place. 
I then installed the software. 
Even though it was a wireless printer, I had to connect to it with a wire, which was tricky as there wasn't a spare desk near the printer, so I had to work off the floor.  I got it set up; disconnected the cable and it worked!
I then ran tests to see if it was OK, and the printer worked, but the fax didn't.
Not having a FM, I was a bit stumped.  The trick I discovered was to reinstall everything, only this time connecting using the wireless.
I sent a fax this morning.
There were no instructions on how to do it, so I don't know whether it worked.  They probably got a blank page as I probably put the paper in upside down.
The printer works well though.
One of my neighbours has accidentally hooked up to it and is printing off all his accounts.
I like wireless.