Gormless is being given a chance to stick his nose into our private lives again.
I read that we have a Sustainable Development Council in Ireland.  I don't know who they are or what they do, but the are part of the government, so you can be sure they are another budget swallowing shower of useless, jobs-for-the-boys burocrats who justify their existence by coming up with shitty ideas.
Their latest idea, apparently is another way to cut down on greenhouse gasses.
They have come up with the idea that each adult should be given an emission allocation for the year.
I checked the calendar, but it is still December, and we haven't suddenly jumped to the first of April.
I will repeat their idea – Each person will be told how much gas they can produce in a year.  It needs repeating because it is frankly such a farcical idea.
At my stage in life and taking into consideration my love for Guinness and vindaloos, I am not behind the door when it comes to producing gas.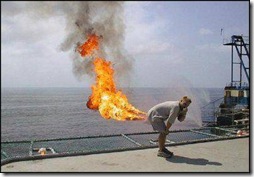 My emissions are the envy of the neighbourhood and are familiar to anyone within a half mile radius [beyond that, they can apparently be confused with jet aircraft or heavy lorries].
I have been known to waken the entire household with a well timed blast.
They are loud, frequent and sometimes pungent.  Puppychild calls them my rudies.
I have few pleasures in live, and those that I do have I am loath to relinquish.  I have no intention of giving up my Guinness, my pipe, my vindaloos or my flatulence.
Quite how the government are going to measure my emissions, I'm not sure.
Are each of us to be allocated a civil servant who will follow us around with their noses up our arses?  Why not?  They are damned well nearly there anyway.
Or will they produce some device that we keep down the back of our boxers [or knickers – yes.. women do it too, though they always deny it]?  Presumably they would be some form of modified breathalyser that would scream when we passed our limit [or accidentally passed something a little more solid]?
Apparently if we fail to meet our annual allocation, we will be allowed to sell the surplus.
The corollary of this surely means that those of us who exceed our allocation will have to buy someone elses surplus?
That will cost me a fucking fortune!
Anyway, this shower of wankers and their nanny ideas are going to put this one to Gormless for his approval.  He will love it.  He will approve it.  Tosser.
There will be one good side effect though.
We will have undeniable evidence that women do fart.