Playing with The Big Boys
For the last week or so, Maxi Cane has been waging a rather puerile war against K8 the GR8.
Why he should take such a turn of aggression against an innocent girl I don't know.
Normally I wouldn't be bothered by such a pipsqueak as Maxi, and would prefer to wage war on more deserving targets such as America or Canada, but I am sad to say that he has overstepped the mark.
Somehow, Maxi has managed to persuade some rather sad individuals to follow his 'cause', and yesterday one of them posted an article which was a direct attack on my good name.  Presumably this was a pathetic attempt to curry favour with Maxi, much as the Green Party lick up to Fianna Fail for the sake of some imaginary power.
Not only was this article a direct attack on myself ["She has merely taken her cue from a man of no conscience, a man of great persuasion, a man who's name will go down in history alongside some of the world's most notorious dictators. This man is her father, The Grandad."], but Maxi proceeded to compound the insult  by issuing personal threats ["Watch your mouth beardy, or you shall face a fate worse than death."].
This is a threat that I cannot tolerate.
Last night I had to take action.
I had to drop a five megaton Mary Harney on South Dublin to show Maxi that he is dealing with the Big Boys now.
I apologise for the slight 'collateral damage' as the American euphemistically call it, but the Infant Maxi has to be taught a lesson.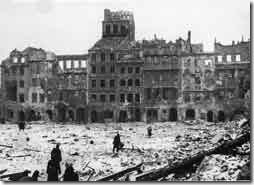 Maxi's apartment block this morning.
Be afraid, Maxi.
Be very, very afraid.