As some of you may know, I had a visit from President Jefferson Davis recently.
Not only is he a fine president, but he is also an exceptional photographer.
He took a trip to the Cliffs of Moher and while he was there, he took a lot of photographs.
He sent me this one. It is of the Aran Islands which lie off the West Coast of Ireland.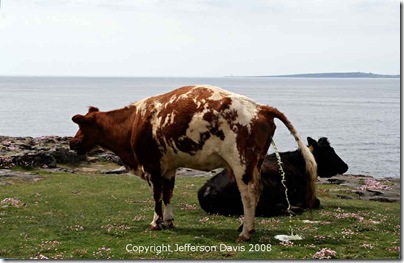 I think it is a magnificent photograph. It captures the mood of the place to perfection. The photograph gives an essence of tranquility and inner release. Note how the light glints on the water, capturing a moment in time that would otherwise be lost forever. It encapsulates all that is beautiful about nature.
I think it needs a caption though…