Dear Bertie Ahern,
I have been following with interest your speeches, which I have read and watched on Damien Mulley's site.
I'm not sure what the hell those speeches are about because you are rambling around like a whippet on the trail of a rat.
I gather it's something to do with broadband, foreign companies and the standard of our education?  Quite frankly, your speech and grammar are so bad that I haven't a clue what the hell you are on about.  Whatever great educational system we have in this country, it is patently obvious that you never availed of it.
As a gesture of good will, I would like to give you a little lesson.
Ireland is a country that consists of 26 counties.  I won't list them all, because I know that would confuse you.  Northern Ireland [that you talk about so much] has 6 counties.
You are supposed to be the leader of the 26 counties bit.  That is called The Republic.  Got that?  Good.
Now one of the 26 counties [Republic?  Remember?] is Cavan.  Yes.  It is in the Republic.  It is not one of the other 6.
I know this is terribly confusing, but when you'll find you'll get the hang of it when you get up to Primary Certificate level.
Now I am going to show you a special picture that's called a map.  It is a picture of Ireland and it shows you the places that you are supposed to be running.  They are all coloured.  The white bit at the top is Northern Ireland, and you can ignore that for now [like the rest of us do].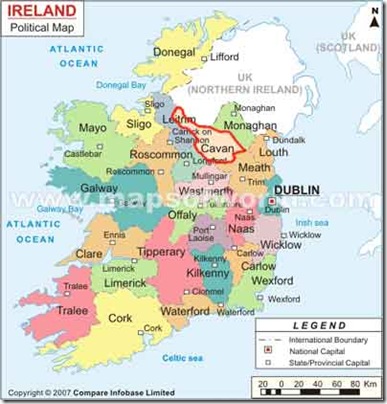 Now.  Do you see that bit towards the top that has a red line around it?  Good.  That is CAVAN.  It even says the word inside the red line.  And you can see that it's not white, so it must be in the Republic of Ireland.  Yes – the country is bigger than you thought.  You must be happy.
This must be very hard on you because of your extremely limited intelligence, but I don't really want you making a fool of yourself again in front of everyone.
I hope this has been of some help.
Yours,
Grandad
P.S.  Next week we'll start on grammar.
G