I am not really one for watching these American series on television. You know the ones I mean – CSI or Lost or whatever.
However, our K8 has a thing for 24. Herself and TAT buy each series as they come out. And they lend them to us.
So I'm in the middle of watching 24.
This series starts with Jack Bauer arriving back into America having spent two years in a Chinese prison, where he has obviously been treated like a Christian Brothers pupil.
He gets off the plane and you can see he is utterly exhausted. His body is covered all over in terrible scars, and he looks like Robinson Crusoe.
They give him five minutes to shave and spruce himself up, and then he is straight off into his adventure.
So far, about nine hours have passed. And in that time, he has killed terrorists, been captured and tortured [and, of course escaped] and defused an atomic bomb. He has outguessed the American president and proved that his thinking is clearer that the combined American cabinet. He has taken control of a situation that had the best brains confused. He has of course saved countless lives also. His thinking is crystal clear and he is on top of every situation.
There is only one thing he has failed to do so far.
There is this character. Her name is Chloe O'Brien. She is supposed to be the top computer expert, but she seems to solve everything by using sub-nets(?) or pieces of code that nobody has heard of except her. She has a face on her like a smacked arse, and she looks like a spoilt child that can't go to the party. She has had a permanent scowl on her face since the programme started.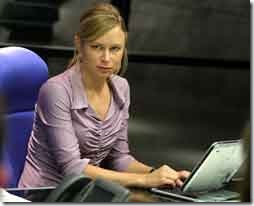 Chloe in a happier mood
Jack has failed to make her smile.
Now, all of this has taken place since he stepped off that plane from China.
So far, he hasn't been given one chance to take a nap, or even to sit down, yet he is running around like a demented ferret, jumping out of helicopters and driving like a dervish around Los Angeles.
He hasn't eaten anything since he arrived. The b*st*rds haven't even offered him a sandwich or a Mars bar.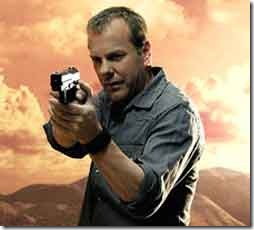 Gimme that apple! NOW!!
He hasn't even stopped to take a pee.
I sometimes think of Jack Bauer when I'm sitting in a traffic jam on the M50. I'm stuck there, with no sign of moving anywhere, and I'm bursting for a leak.
I wish I had Jack Bauer's bladder.