How to get rid of a wasps nest
For some strange reason a lot of people visit my site because they are trying to get rid of wasps.
I'm not really an expert on this subject.
The only wasps nest I ever got rid of was in the neighbours eaves. That was simple. Though I did overdo the petrol a bit, and they are still rebuilding the house. The wasps are gone though.
Last year, I had a great holiday in France. We stayed in a wee gîte in the middle of nowhere in the Lot region. It was beautiful there. The scenery was fantastic, and the weather was almost too hot. There was a patio out the back, where we used to sit until well after dark.
The only problem we had there was wasps. They were f*cking HUGE. I'm talking about the 747s of the wasp world here. There was a fig tree by the patio and they loved that, so there were always plenty around.
I got myself a fly swatter or two, and I practised my John McEnroe serve. I became damn good at it. I'd wait until one was flying over me and then do my serve. If I missed, then they ignored me, but if I hit then there would be a lovely crisp smack and another wasp would head to Hornet Heaven.
My ace was to hit one good and square. He'd go sailing across the lane into the long grass the other side, whereupon there would be an explosion of startled crickets. Quite a spectacular site!
By the end of the holiday, I was ready to sign up for Wimbledon.
I only ever found one ordinary wasp there. I killed him of course. I took a photograph, just to prove it wasn't all in my mind.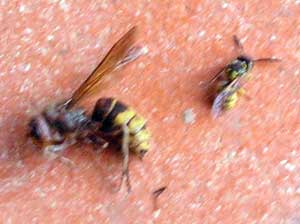 RIP