Yesterday was a rather surreal day.
It started off with lack of sleep which tends to affect the mental faculties a bit.
So I half dozed for the morning.
Then I cut the grass, for the second time this year. That is a long process as we have a lot of lawn, and even though I have a tractor mower, it still knackers me out a bit. So we now have a lovely lawn and a five foot high pile of grass cuttings.
In the afternoon our K8 turned up with the grandchildren and we had a lovely afternoon sitting in the sun and watching the granddaughter chase bubbles on the breeze.
So far – a normal sort of day.
But then things got strange.
I am a complete newcomer to Skype, and have only made a couple of calls on it. But I suddenly found myself involved in a podcast. In America. And this was being recorded for broadcast, so I had to watch my language. I was chatting to Brianf, Jefferson and Dr. Don. Dario tried to join in but there were problems with his connection. So I was the only European representative in America. A big responsibility!
So here I was, sitting in my armchair, chatting to people I have never met. It was like joining a table of people in a pub, and picking things to talk about. I had read these people's blogs, so I knew a bit about them, and they knew a bit about me, so we weren't total strangers.
Here we were, sitting around this table and just having a chat and a laugh. But it struck me then – where was this table? Mentally, I was over in America [the first time I have been there!], but physically I was in my armchair. I then realised that I was in cyberspace and it was a strange out-of-body experience.
To make matters worse, the physical world kept interrupting the cyberworld. Here I was, chatting away about American television or something, and a friend arrives at the back door [in the country, we always use the back door], to I had to rapidly materialise in the real world, like something out of Star Trek, and greet the friend.
"Sorry" says I, "but I'm chatting to a group of friends in America and they are recording it live"
She looked a bit taken aback, but she knows my eccentricities and beat a hasty retreat. But Sandy got out so I had to chase her around the garden to get her back in again.
And then I had to de-materialise back into cyberspace again. I don't know how they survived in Star Trek because this beaming business is mentally very tiring, and confusing.
Another problem with cyberspace is that I was there mentally and verbally, but I couldn't see anything. It is amazing how much we rely on visual clues when chatting. You can tell by a persons demeanour when they are about to finish what they are saying, or whether they want you to shut up. People might subconsciously raise a finger if they have something to contribute. But in cyberspace, that doesn't happen. So there were a few silences, and a lot of interrupting. All the normal rules had gone out the window.
At the end of it all [and it went on for a couple of hours], I was completely exhausted, both mentally and physically.
I collapsed in my other armchair, and Herself tried to bring me up to date on a film she was watching.
But of course, my life is never that simple. I then had to try to round up a very excitable albino deaf boxer dog that had got trapped in the garden. He had found a hedgehog and was dancing in circles around it.
And having restored the boxer to its rightful owner, I had to sit in the darkness and wait for the hedgehog to uncurl, because I wanted to photograph it. I like hedgehogs.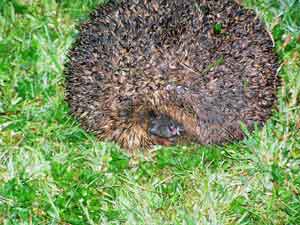 I waited ages. Then I nipped indoors for two seconds to get a glass of water. When I came out again, of course the bugger had gone.
I'm writing this now [indoors] and there is a tit flying in circles over my head. He'll find the door eventually, but he just adds to my surreal existence.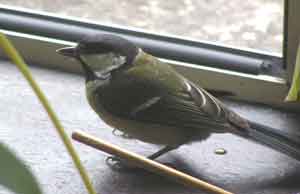 And they say life is quiet when you retire….
-oOo-
Addendum to the above..
The resulting podcast can be heard at The Jefferson Davis Podcast. Thankfully, it has been heavily edited!