I received an e-mail from Robert who apparently is a reader.
He wrote to me because of my attitude to Americans.
I wrote recently about my latest opinions on Americans, and I hope it was reasonably flattering. I said how I didn't think they were all stupid. Only the ones who voted George W back in.
Incidentally, I got a postcard from George W the other day, which was nice of him. He signed it personally and all……….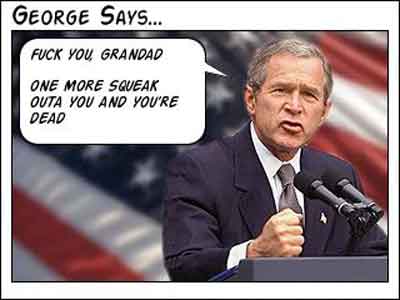 Anyway, I digress.
Robert's mail enclosed a link, which I followed. To say it is scary is understating things. This is horrific stuff. It's a video of ordinary Americans being interviewed on the street by an Australian TV crew. It would be really funny if it weren't so frightening.
Now I know there are stupid people in Ireland. You only have to look at Ryan Tubridy or any of the Boy Bands to see that. But we don't have Weapons of Mass Destruction.
About the only sensible answer was from one who was asked to name the countries in "the Axis of Evil" and he suggested "California, Florida and New York".
Go on. Watch it. You know you want to
I rest my case, M'lud