I finally received my Christmas present from Ron yesterday.
He isn't slow or tardy. He's not like that. In fact he gave it to me before Christmas.
It's just that it is now finally working.
He gave me a Domain – rantabout.it – but if you click on it, it will just bring you back here.
It's a kind of closed circle.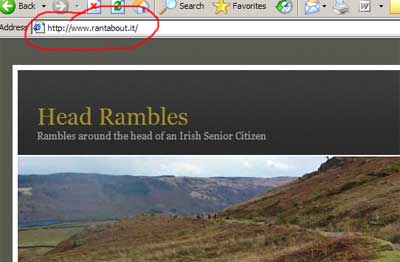 I like it, though I'm not quite sure what I'm going to do with it. I'm not going to change the name of my blog because I have gotten sort of used to it.
Maybe I'll start up a new blog and keep the new one for rants, and this one for other things? No. That would confuse me.
Maybe someone will offer me a vast fortune for it? I doubt that too, though there is a site called rantaboutit.com, but I don't think that site is exactly vying with Google at the top of the Internet.
Anyway, I'll leave it there for the moment.
If it starts to annoy me, I can always rantabout.it.