It's all right Bertie – Santa does exist
I have been accused of being hard on Bertie.
Not at all. I have let him off lightly.
But something he said recently has me a little worried.
There is a lot of concern here about the CIA using Shannon Airport for transporting prisoners to the States. In fact there is a lot of concern here about the US using Shannon for any of their "war" effort. Apparently Bertie asked George W about this.
And I quote:
I was sat closer to him than than you are now and I looked at the great President Bush and said to him I wanted "to be sure to be sure", and he assured me.
Now there are three things wrong with the above statement.
I'll ignore the grammar and put it down to typical Bertie-speak.
But "the great President Bush"? What? We are an independent country and can hold our head high amongst the nations of the World. We do not have to tug the forelock to anyone, any more. This is a blatant piece of grovelling to a man who is nothing short of a terrorist. What is "great" about a man who wages a unilateral and unjustifiable war against another country simply because he wants to secure an oil supply? What is "great" about this man, Bertie?
In case anyone mentions Britain being involved too, I might add that Kendell Myers of the US State Department said of the British – "We typically ignore them and take no notice". So much for Britain's involvement. They are being used for propaganda purposes only [and to provide a few more soldiers to be killed].
What about the "he assured me" bit? George W is a man who has consistently lied through his teeth. He cannot be trusted. If George W told me the time, I'd have to get a second opinion.
So George W pats Bertie on the head and says it's all OK. And Bertie glows and simpers and believes him.
Bertie – you're a bigger fool than I thought.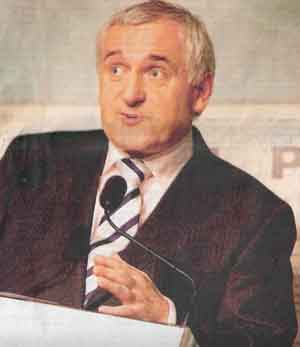 Someone tells Bertie there is no Santa