Anatomy of a heart attack
Curiosity got the better of me and I did some browsing about heart attacks recently.
What I came across was a load of accounts where people posted their experiences. Their reasoning was to alert others to the signs and symptoms, but what amused me was that no two experiences seemed to be the same. I thought I might as well add mine to the mix?
Some weeks ago I visited Doc for my regular NCT/MOT test. He does a pretty comprehensive job including a whole series of blood tests. The results were unremarkable – clean bill of health across the board. He did remark that cholesterol was up a bit but nothing to worry about as it was still well within limits.
The real sequence of events started on a Tuesday. When I went to bed I had a mild attack of indigestion. It was just a typical heart-burn and I went to sleep. I was fine the following morning.
On Wednesday the indigestion returned as I went to bed. This puzzled me as based on Doc's report I couldn't have anything serious. I chewed a couple of antacid tablets and went to sleep. The following morning I was fine again.
On Thursday I was grand. I had an appointment with the vet so Penny could have her annual checkup and vaccinations. As I drove over there the indigestion returned. It was just a burning in the upper chest, so I cursed and carried on. While I was in the vets however, the burning became a tightness and a pain developed in both my upper arms. I suddenly felt faint and broke into a sweat. Also I realised that my vision was blurred. Something serious was going on!
The poor girl who was treating Penny got quite alarmed. I didn't have fur or four legs so she was a bit out of her depth. She gave me a chocolate bar to raise my sugar levels. I insisted I was fine and left.
I sat in the car for a bit until my vision cleared. I'm no hypochondriac so it didn't occur to me that it was a heart problem. I just wanted to get home to grab myself a few more indigestion tablets. I carefully drove home by the back roads.
Herself took one look at me and flew into a panic. I begged her not to phone for an ambulance as I didn't fancy being left to the mercy of our health service. She phoned Doc instead. He told her to phone of an ambulance immediately and to tell them I was having a heart attack. He must have phoned the local First Responders too [including Daughter] and the house started to fill up. At this stage I was in severe pain and could hardly breathe.
The ambulance duly arrived [in about fifteen minutes, which wasn't bad] and the house filled even more. At this point I was covered in electrodes and they had injected a cocktail of something into me. I felt a lot better and told them I was fine and that they could leave me where I was. They didn't listen and I was bundled into the ambulance and we sped off, sirens blaring, up the motoway to St James's Hospital where I was rushed straight into theatre.
The surgeons [two of 'em] were grand and chatty and I was feeling grand. They insisted on stripping me [a very attractive young nurse asked if I minded her pulling down my trousers which is a memory I shall dream about for years to come]. As I lay there they stuck a load more electrodes on me and inserted loads more needles. The inserted a stent through my wrist into my heart and were delighted with themselves.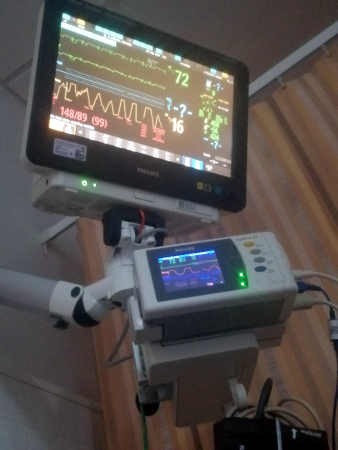 That was about that. I spent a few more days in hospital [having been transferred to St Vincent's Hospital] and was released on the following Monday. I felt fine as if nothing had ever happened.
I visited Doc a few days later to sort out all my new medications. I now have to swallow a fistful of gravel tablets morning and evening. He declared that he was baffled and at a compete loss as to the cause. The only thing he could think of was the stresses I had been under for the previous few weeks.
The only after effect I have suffered is the occasional bout of dizziness which apparently is a side effect of the tablets I'm on. The whole adventure has also shattered my illusion of immortality. I'm not afraid of death as I have lived a good life, but worry about Herself. If I go then she is up Shit Creek and destined for a home somewhere.
I wouldn't wish that on anyone.