Anna Raccoon Left Without 'Checking Out'
A guest post by The Blocked Dwarf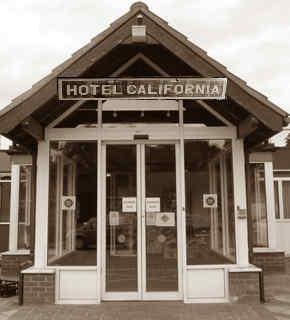 Having yet again contracted sepsis, the Landlady was heading towards that white shimmering light at the end of that tunnel, her head grew heavy (try a 'highball' of Ketamine and opiates sometime) and her sight dimmed (that'd be the steroids), the doctor didn't think she'd make it through the night (Hah! You'd think by now they'd have learnt.) so she was taken by 'urgent' ambulance to the local hospice: "Priscilla Bacon" in Norwich, a 30 minute journey with blue light.
I'll say this publicly and I mean it; I truly admire G for not punching the 2 jobsworths who felt they couldn't carry the Raccoon up a garden step without not only an additional paramedic team in attendance but a health and safety assessment too. 4 bloody hours it took to get a dying woman to the hospice. If I had been G the sentence "'ere you can't talk to us like that!" would have been followed by the sound of…let's just leave it there (for legal reasons) and say that G is a better man than me.
Finally the Raccoon arrived at the hospice, into the compassionate caring arms of people who had, as much by incompetence as malfeasance, already caused her untold suffering back in March and whose sliding doors she had sworn she would never again be wheeled through after they greeted her with a compassionate caring "you may not vape here" which rather neatly sums up the caring compassionate atmosphere of the Priscilla Bacon Lodge (hereafter PBL). I'm not going to rant about the level of inhumane fuss-pottery required to deny someone dying their e-cigarette, if you don't 'get' why it is an obscenely cruel thing to do then you are beneath my contempt and not worth aggravating my carpal tunnel over.
It is hard to find anything good to say about the hospice (and youngest Brother Dwarf was a pally nurse in a hospice elsewhere so I'm aware of some of the issues). The list of 'Things Wrong With It' starts with a lack of even enough parking spaces for staff let alone any for visitors. Built in the 70s (and the wards haven't seen any paint since) at a time when Priscilla, Lady Bacon's Daimler would have been one of only 2 cars parked there-next to the visiting doctor's. Built with a flat roof because all that pointy roof nonsense of our forefathers was just expensive and not 'modern' enough (one might have assumed the galanthophile Bacon would have understood the term 'annual rain fall').  Built far too small to offer the dying any privacy -can you imagine how depressing a ward full of the dying can be? The near constant warm smell of, no not 'colitis', but shit, the near constant screams and pitiful wailing of 'let me out, let me go home to my husband' of the patient with not only cancer but dementia? (btw her husband makes even G look uncaring, he spends 12 hours a day at her death bed. I just wanted to chuck that in, a little recognition however anonymously for his love for his wife).
The Raccoon: "I had a bit of a nervous breakdown" [sic]. Really, girl, a 'bit' of a breakdown? A dash of the female vapours, ya think? I would have slashed my wrists-once the razor blade had gotten the required health and safety 'checked' sticker affixed to it! Everything that comes into that place has to have a sticker, an alibi for their insurance, a policy exemption. Even the M&S sandwiches lovingly hermetically sealed by Nigella herself that G brought the Raccoon -because the food at the PBL "isn't just hospital food" but a transubstantiation of reasons not to bother waking up alive tomorrow.
I could go on but shall simply say that the couple of times I was allowed in (having parked behind the car behind the car parked between the tree and sod the bloody Snowdrops, Priscilla!) to see the Raccoon however briefly- because their Visiting Times (yes really, they still have 'visiting times') might have been written by Matron Hattie Jacques in the 50s, the 1850s, I felt like offering her a pillow…pressed down over her face. No that isn't a dwarvian quip but my mind definitely twisted and mercy bends…(yeah I know that was weak).
Yet G, who is a little autistic at the best of times especially when faced with something he can't fix, improve, stain and varnish-sat holding her hand, comforting her in his gruff manly way, willing the antibiotics to work one last time and even when necessary wiping her arse. (I wonder if that last sentence will pass the Raccoon's Imprimatur, she can get all 'vain' and 'girly' at times – yes I do send her a copy of everything I write about her for her to check pre-posting).
You've heard​ the t​erm 'antibiotic resistance'? Well my guess is that is what will 'do' for Madame Pomparaccoon in the end. Not the cancer, not the drugs but the sepsis carefully nurtured to be impervious to all antibiotics.
But not this time 🙂
She got to come home late on Friday. Borne aloft by the sort of ambulance crew she should have gotten first time round, her leading, oh so aptly, the procession up the newly-laid-by-G garden path (you didn't think that having finished her Summer Palace, G was going to get on with important stuff like varnishing the wherry?).
She slept most of Saturday, surfacing only to ring a couple of her not-so-pretty-boys she calls 'friends' and to tweet the following:

-which, if you've been paying attention, you'll realize might just be the understatement of the month. She's fucking ecstatic to be out of the PBL, back to the place she was before, and now just wants to enjoy G and the view for however many days free of sepsis she is blessed with.