Back in '83, the BBC ran a series called The Computer Programme.
I watched it out of idle curiosity at first and then out of fascination.
The series was about the new phenomenon called the home computer and talked about how we could make jerky little figures jiggle their way across a screen, or store an entire book on a floppy disk.  It talked about different languages to do different jobs, and how you could write a programme that did something, and even save that programme onto a cassette tape.  I didn't know why but I was intrigued.
Around that time a local paper ran a competition and the first prize was a Sinclair ZX81.  I'm not one for competitions but I had to enter.  It was a knockout thingy, and I got through to the final round.  I won!  The problem was that so did another bloke with the same score.  They decided to run on the toss of a coin and I lost.  No ZX81.  Bugger!  It had fired me up though, so console myself I hopped into Dublin and bought a Sinclair Spectrum [48K].
That machine fascinated me.  I taught myself to write a few instructions and they worked.  I could actually write a programme!  Once I got the hang of it, I wrote a programme that could do my own job.  If I nipped home, I could do a week's work in an afternoon, but didn't tell anyone as it meant I had a load of free time.
At the time, I was working as a cable television planner in a department in RTE, the national broadcaster.  At some stage they decided that it was no longer a department but was in fact a subsidiary.  I was getting nervous as I wanted to remain on the RTE payroll and it appeared that they were trying to move us away from the mother ship.  After another couple of years they decided that we were no longer a subsidiary but were a private company.  I was getting desperate.  I started applying for different jobs in RTE, and applied for just about anything that came up.  At this stage, RTE had decided that even though I was an RTE employee, I had to apply for all jobs as an external candidate as I worked for a private company.
Anyhows, one day an advertisement appeared in the papers – RTE were looking for Computer Programmers.  I knew I hadn't a chance in hell as I wasn't qualified, but along with about two hundred others I applied anyway.  I knew if I didn't, Personnel would ask me at the following interview why I hadn't applied for that one.  It was purely a tactical move.
I was called for interview and of course they asked about experience.  I told 'em I had none, and added as an afterthought [and as a joke] that I had a ZX Spectrum!
I was called for a second interview, and then had to do an exam.  I got through but they still weren't satisfied.  There were about ten of us left at this stage and we were sent on a COBOL training course.  In the course of the course another four fell by the wayside, leaving just six.  They announced the results and I was offered the job of programmer along with three others, while the other two were offered jobs as computer operators.
I had a bit of a fight on my hands as the cable company didn't want to release me.  I discovered that they were in the process of selling the company off, severing any and every tie with RTE and I was part of the package.  Somehow I won the fight and moved back to the RTE headquarters, even though it meant a drop in salary and the loss of a rake of allowances.  It was worth it to get out of that place though.  I left the day after the shares in the company were sold, so it was a very narrow squeak.
Many years later I was having an idle chat with the IT Director.  I asked him how the hell I had gotten past that first interview with no experience [he had been on the interview panel].  He said that they had all been impressed that I had been keen enough to buy a ZX Spectrum, so it showed commitment.  That had swung it for him and the panel.
So that is how the humble Spectrum changed the course of my life.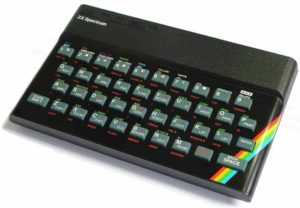 –oOo–
P.S. Note for The Poison Dwarf – I told you it was a long and boring story!