I found a new site last night.
I have a shrewd idea as to who is behind it, and I wish him the best. I would be very tempted to order myself a set of labels for my baccy, but it would probably spoil the leather.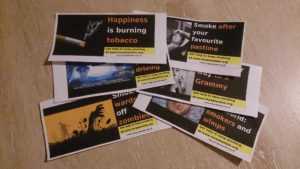 [Click to embiggen]
Now that site led me to another site set up by our good and benevolent friends in the EU.
The site has probably been around for quite a while, but I confess I hadn't seen that page before, I tend not to visit EU sites for the sake of my health.
So now we have the new pornography lined up on the printing presses and ready to roll. Sadly they seem to have dropped my favourite one – the hypodemic nerdle – but have replaced it with a fine selection which I shall happily collect and dutifully paste into a scrapbook which I shall then sell on eBay – "Tobacco Porn – The Complete Edition".
The one thing that stood out for me was their confidence. Smoking will cause all these diseases. There is no "maybe", "may cause" or "be a contributory factor". No, these are definitive, unambiguous statements of fact. Smoking will cause each and every one whether we like it or not.
Mind you, I'm a little confused over one point – if smoking causes impotence and infertility, how can a baby be conceived to later die in the womb? And once this dead baby is born surely it can't be affected by smokers around it? And once it has somehow not survived all those hurdles it grows up to be a smoker? It really is a fucking miracle that any of us survived the last century?
Maybe they are right to be so definite in their prognosis? They are experts after all? Maybe we will all die of their predicted and gruesome diseases? This is of course the stuff of dreams in Tobacco Control? There is one thing they omit to mention…..
When?