There was a bit of a flurry on the Interwebs a couple of days ago.
For example, Christopher Snowdon got all worried about it and Dick Puddlecote got a tad steamed up too.
Both seemed to be in a bit of a tizzy about a call from Birmingham's Children's Hospital to ban smoking in a couple of roads adjoining the establishment.
You see, the hospital is worried about the appalling danger to the little chiiildren from those vicious nasty smokers outside and the simplest way is to ban all smoking in two adjoining streets.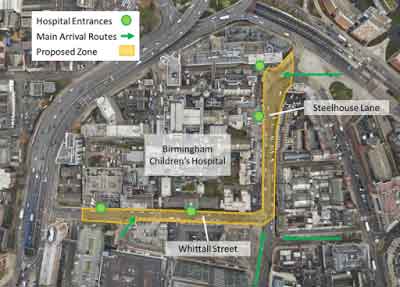 Now this got me thinking. Are Christopher and Dick maybe being a little precious about smokers? Is the ban warranted? Could the hospital be right?
So I got out my vast array of highly technical doo-dads and set to work working out the risks.
Basically there are two main forms of pollution in the area – exhaust fumes and cigarette smoke. Exhaust fumes are, as we well know, toxic and carcinogenic, but cigarette fumes are lethal to the point of instant annihilation of anyone within sight, and also they make your clothes smell.
I decided to plot the relative levels of these threats in the same area. I have marked exhaust fumes in yellow, and cigarette fumes in red.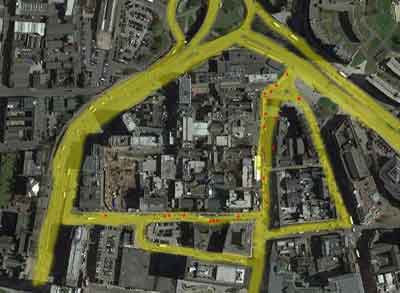 Now the red areas are little difficult to spot [there is a wee cluster at the main entrance for some reason] but don't be fooled. These red areas have the potential to reduce everything to rubble in a ten mile radius, whereas the millions of litres of highly concentrated exhaust fumes will harmlessly disperse into the atmosphere, as we all know. Also we must take into account that even though vehicles are belching vast clouds of fumes, they are traveling quickly [at least five miles an hour in the rush hour?] so they are soon out of the area, whereas those damned smokers are all but stationary and therefore multiplying the effect of their toxic cloud by a factor of at least two.
I don't often disagree with Christopher Snowdon and I rarely disagree with Dick Puddlecote, but on this occasion I think they're wrong.
Those two streets MUST be closed.
We must think of the chiiildren?