The lighter side of business
A few months ago I mentioned my quest for a decent pipe lighter.
My Peterson and I have been very happy together, but as with all things that cross my path, things started to go wrong. I decided to contact James Fox, which is the company where I bought it.
---
Dear Sirs,
Last December I bought a Peterson Pipe Lighter from your good selves [I'm actually recycling the old receipt here to save paper].
To say that I was delighted with my purchase is an understatement. Having worked my way through many lighters, none of which was quite up to standard I was glad at last to have a pipe lighter that worked consistently, didn't require endless clicking and lasted more than five minutes without a refill. I noticed at the time that the top assembly was slightly loose [it sort of rocks, but not in the way that modern youth uses the term], but I assumed then that it was just a "feature". Maybe it is? Maybe the fact is irrelevant to this letter?
Anyhows, my new lighter and I have been very happy together over the months, but unfortunately it started to act up a short while ago.
The first symptom was that the jet decided not to shoot out the side as it used to. It started swiveling and at one stage it blasted straight at the flint wheel, which made it sort of hot to touch. Somehow that seemed to rectify itself and it worked normally for a few days. It started getting fancy then and would shoot flames out in different directions, sometimes even in opposite directions. While the pyrotechnics were quite impressive it wasn't quite so successful at lighting my pipe. Then a few days ago it just seemed to give up the ghost.
I had an old Vector pipe-lighter which I managed to resurrect. It's a clunky somewhat unreliable yoke and burns gas faster than a Shuttle Launch but at least I could light my pipe [with regular trips to the local shop for gas]. I was messing around with the two lighters [as one does] and noticed something a tad alarming – if I went near the Peterson with a naked flame it sprang to life with a pretty blue flame dancing around the business end, even though the cap [or whatever you call it] was in the closed position. It looks lovely but isn't big enough to light my pipe. I would hazard a wild guess that there's a leak somewhere?
I was wondering if there was a quick fix for this? Is this a common problem? Is there a spot on it that I can hit with a lump hammer to jar it back into submission? I know all the spots to hit on my car, television and wife to thump to get them to work and was wondering if there was a lighter equivalent? I tried removing the base but there is nothing there of interest, and I would be scared to meddle with anything around the top.
Any ideas would be appreciated.
Thank you for your time,
Grandad
---
I didn't really expect a reply. Irish companies tend to be a bit forgetful once they have made the initial sale, but then the following popped into my mailbox.
---
Dear Grandad,
We would like to thank you for your kind letter, which we thoroughly enjoyed.
From the symptoms you describe and judging by my long experience of turning half broken lighters in totally useless pieces of hollow metal, I would think that the valve of your lighter is blocked.
While a hammer may not be a useful tool for it – just yet – , an old toothbrush would. When I say "old", I mean the ones that have the softness of a paint stripping wire brush and make your gums bleed just by looking at it. If you wet the brush and give the valve a good scrub it may clean off the blockage and the lighter will spring back to life.
In regards to the rocking lid, this is something that happens after a while, as there is only a small screw holding the whole lid assembly together. It reminds me of my poor grandmother, God bless her soul, when her replacement hips became a little lose. Her doctor at the time said "She will be fine, we must have to tighten the screws". I was not sure which screws he meant, but I guess this solution may work in the case of your lighter too for a while.
If any of these doesn't work and your lighter keeps acting like a hormonal teenager, please return the lighter back to us for a replacement. It will not go to waste as I am sure Dublin City council would be more than happy to use it for the new year's firework display on college green.
Our address is as follows:
James Fox
119 Grafton Street
Dublin 2
D02 E620
The only problem in the case of an exchange is that the Chrome Stripe finish has become as hard to find as a hen's tooth. The only ones that we have available at present are in Satin, Green, Blue and Red, so please let us know which colour you would be interested in.
Yours Truly,
Yiorgos Manesis
---
Being the adventurous sort, I thought I would give it a try. I had nothing to loose and if I royally fucked it up I could always return it and blame the damage on the postal system?
---
Dear Mr Manesis,
Thank you for your very helpful reply.
I took your advice and attacked the lighter with a suitable toothbrush [I'm sure my wife won't mind?] and in the process unearthed the little screw you mentioned. Maybe you shouldn't have mentioned it as I then felt compelled to unscrew it?
To cut a long story short, I discovered that the bolt that the screw goes into wasn't quite as tight as it should be. Also I managed to straighten the main cap which for some strange reason has always been bent. I cleaned out the whole lot and reassembled it. The cap no longer rocks! Problem #1 is fixed!
With some trepidation I lit it and it works! What's more, when I hold a flame near it nothing happens so the leaky thing seems to be history.
It seems to work perfectly now with just one small proviso – it shoots the flame sideways as it should, but it also shoots vertically, so it's now a dual purpose lighter in that I can light a pipe and a cigarette simultaneously. While this might be a nice party trick I am still a tad nervous that the whole caboodle is about to explode. I have attached a little snapshot of it in action, so you can see the quite impressive effect for yourself.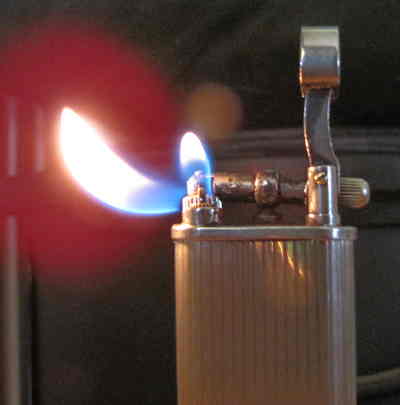 If you can assure me that the device isn't likely to spontaneously explode then I am quite happy with it as it stands.
Thank you for all your help.
Grandad
---
Dear Grandad,
You have done a damn good job with the lighter; this brings the term "Double Flame Lighter" to a whole new level. I would have asked to buy it off you, but I am afraid mingling it with my facial hair may not go down well.
I showed the photo to David McGrane, our resident lighter surgeon, who spoke some words that I would be too embarrassed to transcribe in this email. He said, though, that if you look closely (meaning with a magnifying glass that is as strong as NASA's Kepler telescope) you will see there are two little holes in the valve, where the gas is jetted out. He reckons one of the two holes has some dirt stuck in it, which results in the gas escaping in all different directions. If you take a small pin and scrape it out, then the gas will go the way it is supposed to. He went on then for another two hours waffling about the anatomy of the lighter while drawing some sketches that looked like a combination of Chinese and Linear B.
Try that and see if you have any better luck with it. I doubt that there would be an explosion, just refrain from repairing it while cooking on the BBQ. If it still doesn't work, please send it back to us and David will attempt to repair it, or we will send you a replacement of one in a beautiful colour that it is so bright that it could be seen from outer space.
Best Regards
Yiorgos Manesis
---
Dear Mr Manesis,
I hope Mr McGrane was criticising my photographic efforts rather than my attempts to fix the lighter?
I can guarantee that my dual flame is fully beard proof [which reminds me that mine needs a trim]. I know about the double hole gizmo as my eyesight is remarkably good when I'm not wearing my spectacles. I cleaned out both with a pin but still have the dual flame effect. My theory is that the gas is escaping around the side of the valve seating which is a little annoying but not life threatening. I think I'll hold onto it and if it decides to misbehave again in a life threatening fashion I shall get back in touch. I may actually buy a second one as I have a strange habit of losing things.
Thanks for everything, and regards to Mr McGrane.
Grandad
---
So that's that.
Since then my lighter has reverted to behaving itself and now works as it did in the beginning with a single flame shooting out the side. I don't know what happened to the second flame but it's gone. Paradoxically, I miss it.
Herself never complained about her toothbrush being black. I don't know how I got away with that one. Maybe she has a second brush I didn't know about?
As for James Fox, what more can I say? Excellent? Brilliant? Leastwise they have deserved a little place of honour on my sidebar, so if you're into pipes, cigars, whiskey or any of that stuff, nip over and take a look.
And I'm still contemplating buying a spare Petersons.