I like taking photographs.
I must have several thousand by now stashed away on various hard drives. Most of them are crap [but I haven't the heart to scrap 'em – you never know when they might come in handy], some are not bad and bring back great memories, and very rarely I catch one that I am really happy with.
I'm not one of those "artistic" photographers who takes a beautiful scene and renders it in black and white [to capture the essence of the scene?] or stages a flower on top of a stone. I just point and shoot with my trusty old Canon SX10 and endeavour to get a reasonable composition and a horizontal horizon. It's amazing how many photos are marred by a crooked horizon.
On the last trip Down Wesht I got an idea for a snap. It was one of those intensely rare times when it involved a drop of planning as I wanted to capture the scene in a particular light and at a particular moment.
What I wanted to capture was a beacon. The problems were that the beacon was some distance away [two thirds of a mile] so this required a drop of telescopy. Also it didn't start flashing until fairly late at dusk, giving a bad light for snapping and a very narrow window between too light and too dark. And its flash was very rapid so I had to shoot at precisely the right moment.
The beacon can be seen in this shot I took of the path down from the gate to the cottage. It's way over on the right hand side where you can barely see it.
[Click photos to embiggen]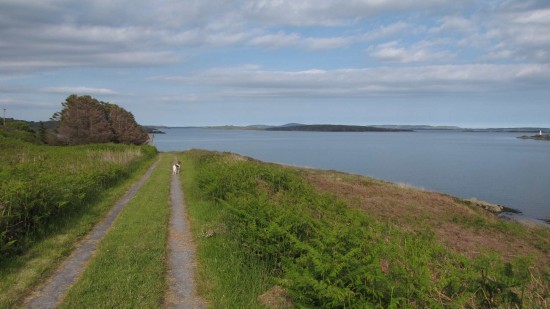 After several failed attempts where my timing was off or the focus was wrong, I finally achieved what I was looking for.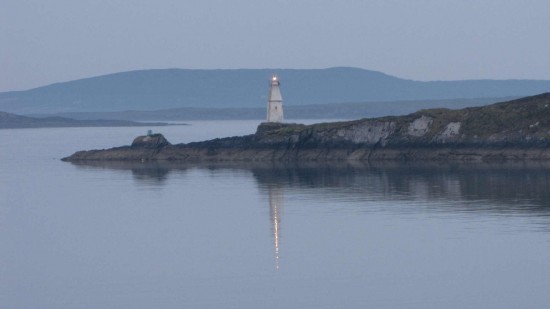 I'm kind of pleased with that. I have it set as my desktop background on the laptop.
I find it quite relaxing.