Around forty five years ago my father and I went on a raid up the valley.
We raided a birchwood for saplings and brought home a whole load of 'em in the boot of the car [an MG 1100, if anyone is interested].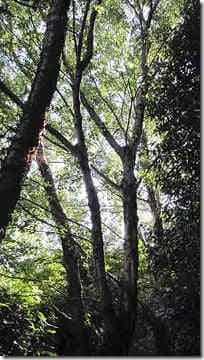 In the intervening years, those saplings along with a whole mixture of other species have grown voraciously and we now have the two woods on The Manor – the North Wood and the South Wood.
I noticed a couple of years ago that one of the trees looked a tad sickly. It was leaning precariously out over the lane and looked in imminent danger of collapse. However it didn't so I sort of put it on the long finger. I mentally names it "The Dead Tree", and left it at that.
We had some fairly strong winds for the last few days. I didn't think twice about it. But yesterday I had to go out. The first thing I saw was that one of the larger branches off the Dead Tree had fallen. I examined it for blood but it seemed clean enough and if it had killed someone, presumably someone would have mentioned it.
I realised that something had to be done. There were two more major branches that looked like they wanted to take a dive so I decided the time had come. for some action.
Tree felling is NOT a solo job, so I phoned around the lads from the pub. Amazingly not one of them was available. A couple were even washing their hair which is a first. The fact that it was still howling a gale and pissing out of the heavens might have had something to do with it though.
Some one has nicked my power chain-saw and all I had was an electric one, so my first job was to find a few extension leads and string them all together to get power out to the lane. I managed that with about three feet to spare. I shinned up the ladder and started work.
Take it from me – standing at the top of a twenty foot ladder hanging on for dear life with one hand and wildly swinging an electric chain-saw with the other hand while in a gale and pissing rain is NOT a fun way to spend an afternoon.
Rain + Aluminium Ladder + Electric Chain-saw = Not Good Idea.
I finally got the first branch, but then ran into a problem. There were only two ways I could prop the ladder near the second branch. One way I couldn't reach the branch properly and the second way involved standing on the ladder directly underneath the branch to be cut. Again, not a very good idea.
In the end I just took the bruit force approach. I just cut the fucking tree at the base and let the whole lot crash down. It made a bit of a mess of the neighbour's hedge and he really shouldn't have parked his car just there either, but you can't make an omelette etc etc.
I'm knackered today. I still have to go out at some stage and cut the fucking tree up into something that will fit into a fireplace but that can wait.
At least I'll have some fuel this winter?