A few days ago I thought I noticed a smell in the back garden.
It was the faint aroma of kerosene which I ignored as the neighbour's tank is always leaking. Every time they fix it another leak seems to spring up.
A day or so later I noticed the smell again, but this time I was in the front garden, and nowhere near the neighbour's tank. I made a mental note to check it out and promptly forgot about it again.
Last night I was out in the garden and the stench was overpowering. So overpowering that I actually remembered what I had forgotten – to check my own tank.
The fucking thing had sprung a leak and there is fucking kerosene everywhere.
It was pretty dark so I left it.
I went out this morning, and in full daylight I could see the extent of the damage – great dark stains on the ground and a smell that would make you retch. There was a constant drip drip drip from the oil filter as I watched, so I shut down the master stop-cock and investigated.
I don't know anything about oil filters. Well, I know about oil filters in cars but I leave that to Spanner. Oil filters on domestic oil tanks are new territory for me. There didn't seem to be any screws or bolts on it so there was nothing to tighten.
I gave it a belt with a hammer.
The dripping stopped.
I suppose I had better replace it at some stage as it hasn't been touched in about twenty years and the filter may be getting a tad dirty. But I don't know what kind of filter it as as it doesn't have a name or any identifying marks on it. Maybe it had at one stage but they have probably corroded off.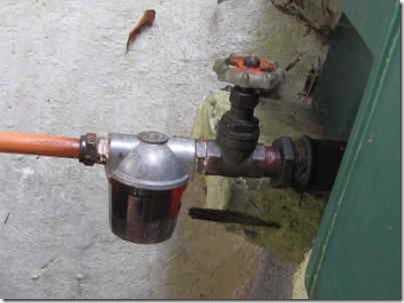 It looks nice and clean though, but that's just because it has been liberally washed in extremely expensive kerosene.
So now I have to try to find out what make it is. Even more difficult, I have to find where to buy a new one.
In the meantime I have sent a letter to Shell offering them first refusal on drilling rights in my garden. And I ain't gonna just give those rights away like our fucking gubmint did.
After all, I have to make up the cost of the lost oil somehow?