How the hell am I supposed to get the right time?
Once again, I'm caught up in this twice yearly farce of fiddling around with clocks, watches and all the fucking paraphernalia around the house that insists on telling the time.
In some ways, things are a little easier because half the crap in the house seems to be connected to the Interweb these days, so whether I like it or not, my laptop, the television and a load of other things switched their hour automatically. Even my mobile phone is showing the new time.
But how do I know it's right?
How do I know where the Interweb gets its time from and if it's right? For all I know, Interweb time could be adjusted by some twelve year old snot gobbler in his back bedroom who relies on his Micky Mouse alarm clock.
In the good old days, all I would have to do is switch on the television during the daytime, and there would be the station clock in all its technicolour glory.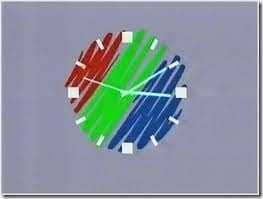 I knew that clock was bang on because it was tuned to Rugby in the UK which in turn got its time from the atomic clock in Greenwich. Once you allowed a couple of microseconds for transmission time, that clock was bang on the nail.
So where is my central timepiece that I can rely on?
Where is that definitive clock that I can use to set my watch?
Has anyone got the right time, please?