You really couldn't make this stuff up.
The front page of the Irish Times –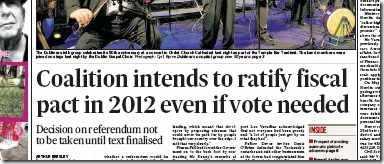 So we may or may not have a vote on handing over financial control of this country to a gang of unelected foreigners.
And if we do have a vote, they will ignore it anyway and go ahead.
Welcome to Democracy, European style.
Oh, and by the way, if there is anyone out there who is thinking of paying the fucking house tax, this is what they are spending your money on.
We couldn't have our Health Minister taking some exercise now, could we?