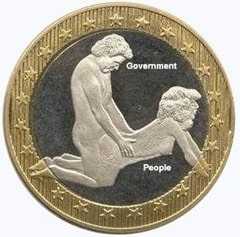 This recession thing is getting very tiresome.
There are a lot of avenues when it comes to raising cash to fill the EU gubmint's coffers.  They could introduce all sorts of taxes on the higher earners ["Oh no, we can't do that – no one would come over here and start up new businesses"]  They could chase down those who fleeced the country during "the good times".  Feckit; there are dozens of ways.
But what are they doing?
Milking pensioners.
Yup.  That's right.  Need a few million? – let's force pensioners to pay more tax.
They sent out somewhere in the region of 150,000 letters to pensioners telling them that they are going to have to cough up a lot more tax. 
Of course this has led to blind panic which in turn led to 20,000 of 'em phoning their tax offices to find out what the fuck was going on.  Chaos and confusion.
Frankly I am more than a little nauseated at this turn of events.  My theory is that they are scraping the pensions simply because they haven't found a way of taxing children, the disabled or the handicapped. 
For once, I don't blame the gubmint except in so far as it refuses to stand up to Brussels.  No – the blame lies squarely at the feet of the EU.  The bastards are here at the moment going through our books to make sure that we are all bled dry in order to save their precious fucking Euro.  Apparently the pension fiasco is their idea.
The Meeja insists on calling them the Troika, which is much too honourable a name.
They are just three blood sucking leeches.