Another low in Irish politics
There are two names that should go down in the history of this country.
Charlie Haughey and Bertie Ahern.
Haughey was the corrupt bastard who skimmed millions in backhanders while in office and Bertie is just a corrupt little money grubber. Both saw the position of Taoiseach as a means to an end; that end being self enrichment.
The latest low point is an ex leader of our county appearing in a television advertisement for a cheap tacky tabloid paper.
Bertie is a cunning little cunt. I have to say that about him. He was the ultimate architect of this country's demise, as he was the leader for the period when the corruption was at its worst and which ultimately led to our downfall. This little cunt is still knocking back an exorbitant salary for doing sweet fuck all except swan around the country in a state provided car. He even managed to worm a tax free exemption for his biography. Tax exemptions are only permissible for works of fiction, but there again, he is a consummate liar so he probably does qualify.
Now the little bollix is popping up on our television screens advertising his 'sports column' for a rag paper. Is there anything he won't do to make money?
There was talk of him running for president. I don't know if that's still a runner, but if it is then this country really has sunk to an all time low.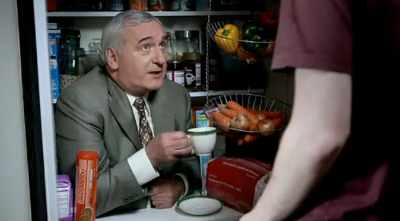 Could this really be the future president of our country?
God help us all.