My whole world collapsed over the weekend.
It was absolutely devastating, but these thing happen, and you just have to roll with them.
I have a favourite armchair.  I have had it for years, and it is extremely comfy.  It has nicely moulded itself to my contours and over the years, we have exchanged molecules so that I am part chair and it is part me.
I was sitting there minding my own business, when there as a bang, and I descended.
Yes.  I went down in the world.  The fucking chair had broken.
I spent a day in my lower position, pondering my lower perspective of the world and I felt rather nervous.  If one whatever-it-was can break, then so can the others.  Was it just a matter of time before I ended on the floor?
In the end, I upended the chair and cut the bottom off to take a look inside.  There was quite a lot in there.  There was a lot of dust and fluff, a dead mouse, two slices of pizza [I don't know how they got there as I do not like pizza], several paper clips, €3.27 in small change and a broken spring.  Yup – the steel spring had snapped.
I haven't the vaguest idea where you can buy those springs, so I decided that rather than drive myself demented trying to buy a new one, that I would repair the old one.  That is not quite as easy as you may think, as I don't happen to have a welding torch, and anyway that just would have burned my chair to a crisp.
Any man worth his salt will tell you that one of the most vital things to have around the house is a Vice Grip and a few old wire coat hangers.
I set to work.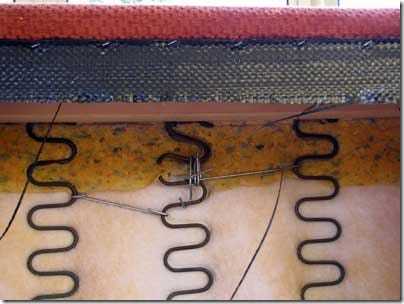 I'm quite proud of my efforts.
My binding tried to thwart me by slipping off, so I had to add some bits to stop any sideways movement, but as feats of engineering go, I think it's up there with the Forth Bridge and the Hoover Dam?
I'm sitting back in my chair now.  I have gone back up in the world.
Spring may not have arrived yet, but it is fixed.