It's not often you get good news in the papers these days.
I was browsing this morning, and of course one of the main stories was the Guinness fire.  Here was a national tragedy that was narrowly averted.  Forget your recession, your kiddy-fiddling priests and your NAMA – if the brewery had gone up it would have been the end of the country.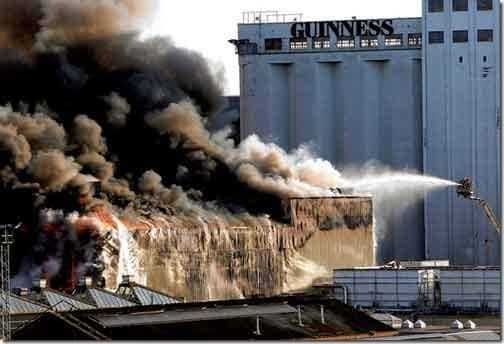 Firemen adding a white head onto the black stuff.
Then I spotted another item that cheered me immensely.
Simon Cowell is gutted at losing the Number One spot in the charts.
I don't give a flying fuck who's in the charts, to be honest, but anything that makes that wanker miserable is going to cheer me up.  I am sick to the teeth of him and his fucking X-Factor.
I have never watched the programme.  I would far rather have my testicles slowly removed with rusty shears than watch that unadulterated crap.  It is the epitome of all that is wrong with modern society.  All it is is a bunch of talentless oiks all belittling themselves in order to become famous for a day.  Pathetic.  Even worse are the people who watch it.  They are whipped up into a frenzy of passion for their tosser of their choice and then are gullible enough to spend a fortune on the voting.
I have had the misfortune to see extracts from the programme, and I have yet to see any performer [apart from Yer One with the eyebrows] who is any different from half a million other talentless wannabes.  And of course there was Jedward!  Holy fuck!!  I have more talent in my little toes than that pair, and my little toes are utterly talentless.
I would love to think that Cowell will quit the show in despair.  It's unlikely though, considering the fortune that is being made out of the saps that watch it.
In the meantime, I shall celebrate Cowell's misery with a few pints tonight.
Pullit had the sense to buy in a large number of kegs in the Guinness' pre-fire sale.