It's raining again.
It is what I would call a typical Irish midsummer's day – grey and wet.
It lacks two essential ingredients though – cold and wind.
Since we arrived here, we have had over two weeks of blazing sunshine.  I am talking about days where it is just too fucking hot to go out.  Not that that stops me.  The skies were blue and the sun was like an open oven door.  Unrelenting sunshine.  And no wind.
A few days ago you bastards in Ireland grabbed yourselves an anti-cyclone and plonked it smack over Ireland.  Did you make good use of it?  No.  You managed to squeeze a couple of fine days out of it, but then you spoilt if for yourselves by covering everything in cloud.  In the meantime, the anti-cyclone [which you had absolutely no right to, I might add] was pushing all the bad weather my way.
Fortunately the French know how to dish out bad weather.  You get a few spectacular thunderstorms, a spot of warm rain, no wind, and that is about it.
You have no idea how I fucking hate wind.
We went for a drive yesterday.  It was a 'bad weather' day, in that the sky was mostly clouded over.  The French acknowledged the foul weather by bringing rolled up jackets, just in case.  We took a stroll around La Roque-Gageac, which is like a lot of places around here – built vertically instead of horizontally.  Strange, but it works.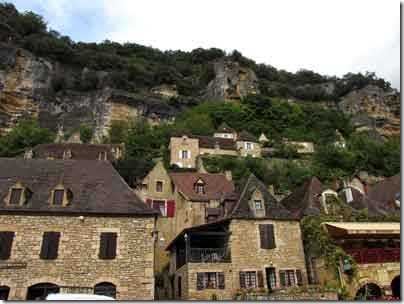 I actually took a photograph.  It's of some steps.  It's a little bit crooked because I took it in the middle of the road and there was a fucking big bus coming.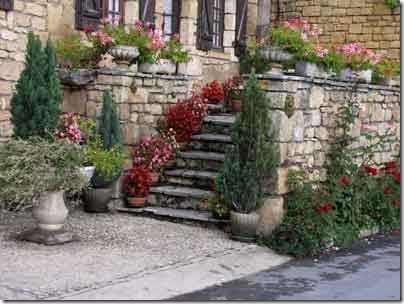 As you can see in the second picture, there are some dark spots on the road?  Yes.  I told you it was a 'bad weather' day and those are damp spots.
Afterwards we went onto another village for coffee where we sat outside in the warmth and enjoyed the smell of burning leaves in the distance.  Very Autumnal.
Now that Ireland has had [and as usual, wasted] its anti-cyclone, the weather here is on the mend again.  The forecast is for sunshine after tomorrow, but the temperatures are to be a bit lower – in the high twenties instead of the low thirties.
After all, it is Autumn.
I see the rain has stopped.
And it's dead calm.
Anyone for a drive?