I hate flies.
They are irritating little fuckers that serve no discernable purpose in life; a bit like politicians.
One has been annoying the hell out me for the last couple of days.
He seemed to have a liking for the television, as he kept crawling all over Sharon's face which didn't please her very much.  I don't like anyone crawling over my Sharon.  The fly had to go.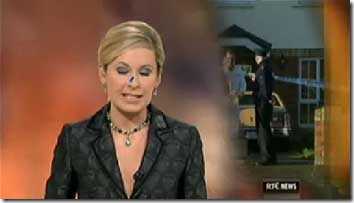 I tried swatting it.  This led to a bit of mayhem, a broken flower vase and a very nervous dog.  I couldn't swat the little bastard.  He was too fast.  Or maybe I'm too slow.  Old age is beginning to take its toll.
Then I found a can of industrial strength fly spray that we bought in France last year, and brought home with us.
It's a fearsome looking can with a big label – "INSECTICIDE".  Under that it announces that it's for "mouches", "moustiques" and "guepes".
It was time for my "mouche" to say its prayers.
I emptied half the can into the room this morning. Minnie suddenly started making a buzzing noise and she ran around in rapid circles.  She is now lying on her back making strange gasping sounds, but I'm sure she'll be grand.
There is no sign of the fly.  It was around before I sprayed, but I haven't seen it since.
Either it's dead or it has decided to call it quits.
I wonder if my Insecticide works as effectively on politicians?