Conversations on a submarine
I have been doing some research on the Interweb.
Did you know that the submarine U-105 was a type IXB and was built in 1940? I bet you didn't know that.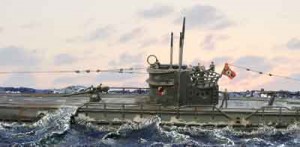 It sank in 1943. It was hardly worth building.
So why this sudden interest in submarines?
It started with a phone call on Monday.
A lovely young lass phoned me and asked if I was up for it. I of course replied that I was. I'm used to that type of call, you know. The girls around here just can't keep their hands off me.
Anyway, it transpired that there was a bit of a misunderstanding, and what she really wanted was for me to do a radio interview.
I said I would, and asked what radio station she was from.
That's where the submarine bit comes in.
She said she was from U 105.
That is when I did my research, and that's when I discovered that I had been talking to a young lass who had been talking to me from a submarine that sank 69 years ago. Weird.
I didn't expect to hear any more from them as they must have drowned by now.
To my amazement, she phoned again yesterday and handed me off to a bloke with a soft Norn Iron accent, who promptly compared me to Victor Meldrew.
Just to be on the safe side, I recorded it.
This Interweb is a surreal place.