This is one of those days when I am really glad I have retired.
I love snow, but I hate driving in it.
I have no qualms about the actual driving – it's the other fuckers who haven't a clue how to handle that white stuff that cause all the problems.
The first light dusting of snow, and they are down to five miles an hour, so the entire country grinds to a virtual standstill.  They seem to think that the snow is going to jump up and bite them.
Driving in snow is the same as driving in any other weather.  The only things you have to watch out for are gentle acceleration, gentle breaking and gentle cornering.  Get those three right and you can do any damned speed you like.  I should know.  I have driven in enough snow in my time.
When I worked, it used to take me about an hour to get into work.  I believe that would be around an hour and a half in modern traffic.  I know for a fact that if I left the house now to drive into the Old Hell Hole, it would probably take four or more hours.  If the roads were empty, even with the snow, I reckon I could do it in one.
So I am going to sit here for the day and admire the beauty of the mountains smothered under a white blanket.  I'm not sure whether it's the mountains or myself will be under the blanket but who cares?
I'm getting reports from my network that the main roads into Dublin are at a virtual standstill.  If I were stuck in that traffic, I would be feeling very sorry for myself by now.
But I'm not.
Time for another cup of tea…
God, but I'm a smug bastard!
*heh*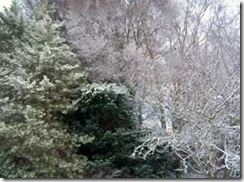 The Birch Wood this morning