A month ago, I wrote about the wild guinea pig in the garden.
Life has moved on a bit since then.
He was captured, and became a she.  This was not one of your operations that we don't discuss publicly; it was more a case of discovery.
The problem then arose as to what we were to call this little turd on legs.  The honour fell on Sixty who suggested 'Minnie Pig'.  This was rather appropriate, as Puppychild calls them mini-pigs as a generic term.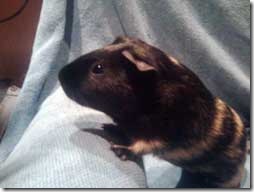 The general idea was that Minnie was to go and live with our K8's pair [of guinea pigs – no smart comments, please].  This however didn't work out.  The vet says that K8's pair should eventually make a reasonable physical recovery, but he can't answer for the aftermath of the trauma.  So Minnie is now living with us.
Apparently guinea pigs are social animals and like company.  We had notions of getting a companion, but I just couldn't bother my arse driving around looking for a petshop.  She's only a fucking animal after all.  So she now lives in splendid isolation in our kitchen, so that she is nice and handy should we run out of meat.
Things have developed since then, however.
We got into the habit of letting her out for a couple of hours for a bit of a run around.  This would be fine, but Minnie seems to have taken a bit of an aversion to Herself.  There is no violence involved, but frequently my evening nap is interrupted by a shriek of "Jesus! The little fucker has pissed on me again".  Minnie is quite subtle about displaying her feelings apparently.
What about Sandy, you ask. 
Here is where the new development comes in.
There was a bit of curiosity when the two first met, and I had the tranquiliser gun at the ready.  I didn't need it however as Minnie came to a decision.  Having already gone through a gender reassignment, she went through a species reassignment.  She has now decided she is a Minnie Puppy.  She has adopted Sandy as her mother.  Fortunately, Sandy has adopted Minnie as her long lost daughter, so the two now spend the evenings in mutual admiration.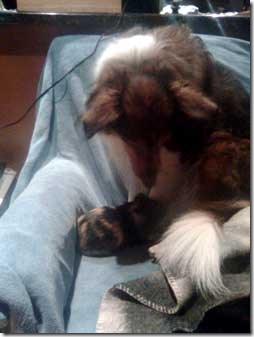 There is a ritual now.  Sandy will curl up on the couch, and Minnie will run over.  Sandy then proceeds to wash Minnie, until she is wringing wet and all her hair is standing on end and glistening with slobber.  Minnie then runs over for a quick piss on Herself and then returns for another wash.  A very cosy scene.
I'm very fond of Sandy, so all this has disrupted our gastronomic plans.
I could never eat Sandy's daughter.
Not yet, anyway.