Keeping my balls in the air
Sinéad Gleeson wants to know what it's like juggling a blog and writing a book.
I wish it were that easy.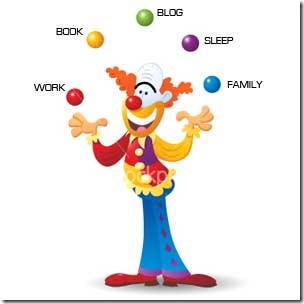 Some years ago, I started a little business, which took on a mind of its own, and grew until it was a full time job.  I even had to turn work away.
Towards the end of 2006, the work eased down a bit, and I had time to start a blog.  Last year was fine, in that the work came in at a trickle, and I had plenty of time for the blogging.
Around October, all that changed.  First of all, for no reason whatsoever, the work started to pour in.  I have never advertised my business, so I don't know where they came from, but come they did.  And then I got involved in the novel thing.
I find blogging easy.  The hardest part about it is coming up with the idea, and that usually isn't too difficult.  A quick browse around other blogs, or a glimpse of the news or whatever, and I'm away.  I write as I think.  I don't plan or structure.  I allow my spell-checker to take care of spelling [except when it insists on using a fucking American version].  I am a stickler for grammar, but I probably get that wrong too.  If I get a post wrong, I lose nothing.  I can make up for it again.  Bloggers are used to bad posts, and generally are a forgiving lot.  And if I lose my readers, there is no financial loss.  All I have lost is the time taken to write it, which is counted in minutes rather than hours.
Writing a novel is completely different.  A novel has to be structured.  It has word counts, and deadlines.  It has to appeal to an audience that is not used to the vagaries of the blog world.  It is very time consuming and requires a lot of thought and planning.  A novel has to be good.  It is unforgiving.  I have to pour my soul into it, because if I get it wrong, then I have wasted months of very hard work, not to mention the time and effort [and money] that the publisher has invested.  Get a book wrong, and there is no second chance.  I can't tell my readers to come back tomorrow, because I'll do better.  I don't get any feedback until the entire thing is done, so there is the constant fear that I will invest a good chunk of a year in a lot of hard work that will be wasted.
My work is a completely different ball game.  It is essentially mathematical in nature and requires a different part of the brain altogether.  Also, I am on call from nine until half five, so it can intrude at any stage.
So, the juggling is fierce.
Generally, I start the day with the blog.  I post my effort, and then turn to the work.  If I have something urgent on, that can take all day, but in general, I can keep clients happy with a morning's work.  I then try and have a nap, and wake up with my Book Head on.  I then try and write for the afternoon and on a bit into the evening, or at least until Herself starts complaining.
It doesn't work out that way though.
Once the blog post goes up, comments start coming in.  So even though I'm pounding away at formulae and calculations, I have to mentally switch to literary mode to respond.  It's only polite, after all.  Then during the afternoon, if I'm really lucky, I get right into the head of the character.  I'm in the location.  I can see what is going on around me in the novel, and I literally write it as it happens.  And then the fucking phone rings and it's a client wanting me to do something urgently.  I am dragged screaming out of my fantasy world, where I have been having a great time, and have to immediately switch to my Business Head which isn't easy.  And then of course I have to worm my way back into the plot after.
There are four options.
I can give up the work, but my existing clients rely on me, and anyway we are saving to go to France hopefully.  I like France and the thought of it keeps me reasonably sane, even if they too have succumbed to the insidious smoking ban.
I could give up blogging, but frankly, I enjoy it too much.  That too helps me retain a modicum of sanity.
I could give up the book.  That would probably be the worst option, because it would be one of the greatest regrets of my life.  It is an opportunity that is afforded to very few.  It is a very enjoyable challenge, despite its intense frustrations and hard work.  I'm not writing it for the money or the fame or the glory.  I am writing it because it is my Everest.
The fourth option is to carry on juggling, which is really the only option open to me.
So.  If you'll excuse me.
I have work to do……