Don't forget your anti-freeze
At last.
One of my best days of the year.
Newgrange has seen the sun, and from now on the days get longer.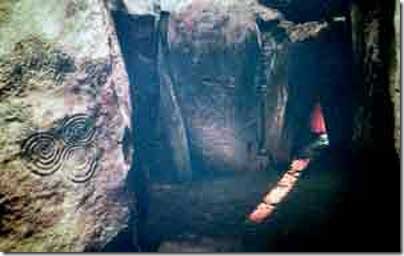 I got a new laptop recently, because the old one was getting rude.  I put everything I needed on it like Firefox and Anti-Virus and things like that.
But I forgot to put in Anti-freeze.
We had the first real hard frost of the winter this morning, which is appropriate, because this is officially the first day of winter.  But my laptop was frozen solid.
I knew what to do though as I am a resourceful person.  I filled a deep baking tray with warm water and immersed the laptop for a while.
The trouble then was that it was wet.  I tried a hair-dryer, but that didn't work very well, so I put it in the oven for a bit.  That was slow going though, so in the end, I put it in the microwave.  That worked perfectly.
So my laptop is now ice-free and nice and clean.
I am now going to go out and dance naked in the garden to celebrate the Solstice.