Dubya is always on about roadmaps.
He has his roadmap for Israel and his roadmap for Iraq.
I thought it was about time Bertie had a roadmap.  Because we don't want him to feel left out.  And it might help him find out where he's going.
So I made him one.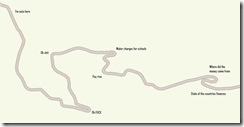 Click to enlarge
I hope he can use it to find his way.
He seems to be lost now.