making a point of not being English
I haven't mentioned my mother much to date.
There are reasons for this that I won't go into.
My mother was English and proud of the fact. Despite the fact that she lived in Ireland for the best part of 60 years, she always managed to retain the English accent, and would always listen to the BBC rather than RTE.
From the day I spoke my first words [I think they were 'f*ck off'?] I had English expressions and intonation drummed into me. After all, I couldn't grow up like the coarse Irish peasents around me, could I?
This was all well and good [I didn't know any better], but things changed when I went to school. Back in the fifties, history was taught in a very unbiased manner in Irish schools – the Irish were downtrodden heroes and the English were a bunch of marauding invading imperialistic bastards. The teachers loved telling us about the Plantations and the Famine. They taught us expressions like "burn everything British except their coal". I had a very balanced education.
However, because I had quite an English accent by that stage, I got a lot of stick. Or rather, I go a lot of compass.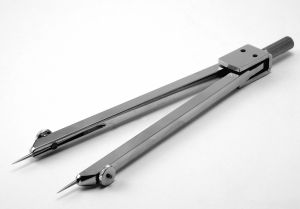 My classmates used to take great delight in waiting for some anti-British lesson to come up, and then they would whisper nasty things at me and then ram a compass into me.
I got the point.
I had to rapidly become more Irish than I actually was. I had to develop a thick Dublin accent and curse the Bloody Brits in every second sentence I spoke. It was a matter of survival.
I have matured [a little] since then. The thick Dublin accent is gone. So too is the English one. I bear no ill will towards the British. What happened in the past is ancient history. But when someone asks me if I'm English, I subconsciously wait for that sharp pain in the buttocks.
So if you want to instil a nationalistic fervour in your children – you can't beat a jab of a compass up the arse.