I wave been awarded a Golden Crab Award by Brianf.
His category?
"The Original S.H.I.T. Blog"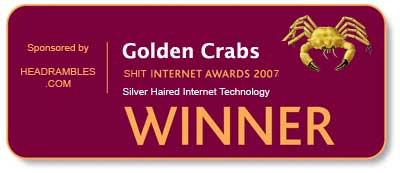 I don't know whether to take that as a compliment or not. But then that's the point of the awards. I can't complain, because I started it……
OK, so. My nominations:
Going Like Sixty – For his Devotion to M&Ms [and an unnatural fondness for Head Rambles]
Doc's Place – For being the Best Site to adopt me.
Damien Mulley – For being The Man [and because he'd appreciate it?]
Grannymar – For being the Best Podcaster and also for Being Least Likely to Display the Award.
Michele – For Starting it All
If anyone wants to know more about the awards, they will find it all at http://headrambles.com/2007/09/10/golden-crab-awards/.
So, go on. Give someone else The Crabs…..