I'm a Schmoozer and I didn't know it
Apparently I'm a Schmoozer.
I didn't know what a Schmoozer was until I looked it up.
schmooze or schmoose also shmooze
v.intr. To converse casually, especially in order to gain an advantage or make a social connection.
v.tr. To engage in schmoozing with
n. The act or an instance of schmoozing.
It seems innocuous enough. I don't think I can be arrested for it, unless I overdo it.
Though I prefer the paragraph on Jefferson's site –
"As it goes, Good schmoozers effortlessly weave their way in and out of the blogosphere, leaving friendly trails and smiles, happily making new friends along the way. They don't limit their visits to only the rich and successful, but spend some time to say hello to new blogs as well. They are the ones who engage others in meaningful conversations, refusing to let it end at a mere hello – all the while fostering a sense of closeness and friendship.â€?
Anyway, Jefferson has nominated me for a Schmoozer Award …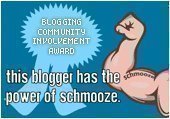 I am flattered. Thank you, Jefferson.
Of course I have to nominate others. That is the power vested in me now. I have to be careful as absolute power corrupts.
In no particular order:
Going Like Sixty – who never is at a loss for words.
Doc's Place – Because he adopted me [how schmoozy can you get?].
Bertie's 3rd Nipple – Who always has a wise crack. But with a name like that…..
Robert – Who haunts the blogosphere like a spectre, waiting to pounce.
Primal Sneeze – Just because.
There are loads of others, but I can't fit yiz all in.
Next time maybe?