Your three minutes are up….
It's amazing how much we take for granted these days.
Herself went to the dentist during the week. She got a prescription for antibiotics which violently disagreed with her. So we rang the dentist and he promptly faxed through a different prescription. I was able to nip down and get her the new medication. All in the space of less than half an hour.
Just think about it.
Not many years ago, I could have phoned the dentist, but I then would have had to drive over to collect the prescription [a long journey], and by the time I got back, the chemist would have been closed. Or else he could have posted it, which would have taken even longer.
If I want cash at any time of day or night [you never know when you might need the odd €50 at 3am!] I can nip down to the ATM and withdraw that cash.
Not that long ago, if you needed cash, you had to go to the bank and withdraw it. And the banks had very awkward opening hours. It usually meant taking time off work. So if you wanted to go an the batter on a Saturday night, you had to make sure you had enough cash in your pocket or you were done for. Pubs and shops didn't take Laser cards [they hadn't been invented] and might take a cheque if you had your passport, a valid cheque card and were closely related to the owner of the establishment.
If I want to phone someone, it doesn't matter where I am – I just whip a tiny box out of my pocket and phone them.
In the old days, it would have meant a hunt around for a phone box [80% of which were probably vandalised] and then I had to pray I had the right change.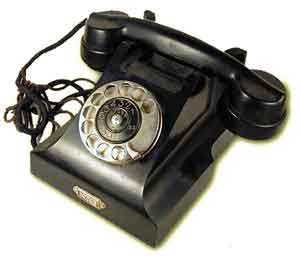 If I want to talk to my blogging friends in America or Australia, I just plug in my microphone and call them on Skype. Free!
In the old days, it would have meant booking a call with the exchange operator. They would then give you a time to call. Even then, when you were making the call, and having a chat, the operator would cut in and tell you that another three minutes were up, and did you wish to continue? And it would cost a fortune for each extra three minutes.
For those of you who have grown up in the modern world of mobile phones, the Internet and the World Wide Web, it must seem like they were around forever. There weren't. They seemed to descend overnight. and they changed the world radically.
Even now, I find it very strange that as I type these words, that shortly they will be visible in just about every country in the world, for anyone who cares to read them.
It's no wonder I'm getting paranoid about my spelling and grammar.