Cully & Sully are at it again
I have really had a bellyful of that Cully & Sully crowd.
Not content with snowing me under with ceramic bowls, so I can't even use half the rooms any more, they are now plagiarising my work.
I was browsing their site today in the hope of hacking into it and leaving a rude comment or two, and what do I come across?
That is going too far. They give an old address for a post last February, and then quote verbatim the last post I did about them, under the heading of 'other blogs'. So they are filling their website with my hard work. And not so much as a single fish pie in return. Next thing they'll be packaging my entire Blog in ceramic bowls and selling it off.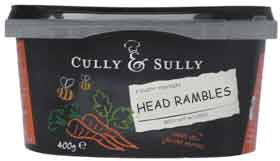 I was going to contact my solicitors and bring them to the European Court of Plagiarising Blogs or something. But I do like their pies so I'll be lenient.
I have learned a little about search engines in the last few months, and I have found that by writing about Cully and Sully, I am climbing up the search results. Already, I'm only just behind them in Google, and soon I'll overtake them. Then anyone who searches for them, will find me. And I can write what I like about them.
So they had better be damn nice to me from now on.