Government announces new initiative
The Government today announced a new initiative to overhaul the Health Service and to reduce our dependency on fuel imports.
Bertie Ahern announced today that Mary Harney is to be removed from the post of Health Minister.
"Sh Sh She ha ha has been an enormous obstacle in our drive for a be be better health service" he said.
"In fa fa fact she has just been an enormous obstacle!"
Asked what post she would be given instead, Minster for the Environment, Dick Roche replied
"Actually, we will be melting her down and refining her into bio-fuel. We reckon there is sufficient there to supply all our gas and oil needs for the next fifty years"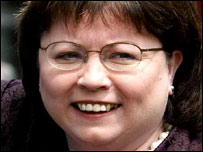 to be recycled
The Irish Nurses Organisation welcomed the announcement.
"Now that this vast obstacle has been removed, maybe we can progress forward" a spokesman said.
The Motor Industry announced that they had been running trials for the last few months in conjunction with the ESB and that a test run using Síle DeValera had been extremely successful.