I used to be a blood donor.
I started on my eighteenth birthday and gave regularly. I felt I was doing some good.
They were always pleased to see me because I have a rare blood group. So they felt good when I donated. I felt good when I donated.
My highlight came one day about fifteen years ago.
The mobile donor unit had arrived at my workplace, and I was going to drop in during the day. But I got an urgent call – could I please run up and donate immediately. So I ran.
When I got there, I was rushed past all the waiting colleagues and given a quick preliminary check and was then immediately plumbed up. There was a motor cycle courier waiting by the bedside looking nervous. As soon as they had tied off the knots, the courier was given the pouch and off he went at a run to his bike.
"What was all that about?" says I to the nurse.
Apparently there was a baby in the nearby hospital who was on the operating table, and they were desperate for my blood group. She said I more than likely saved that baby's life. I felt good. And I hope the baby made it.
About six months later, the unit was back again, so I strolled up.
I went through the usual prechecks and was found to be all healthy. One of the questions you are asked is if you are on any medication. I was, at the time. I had been taking a tablet for the previous couple of weeks for a minor complaint.
The doctor came around to examine me, and glanced at my notes. He then announced in a voice loud enough to be heard throughout the room [which was full with my friends and colleagues] –
"He's a regular drug user. Rejected."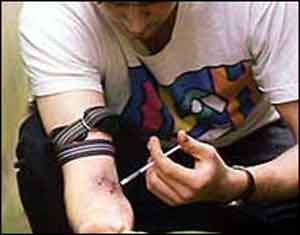 Now what he said was technically correct. But by implication, he had branded me as a potential herion addict in front of the people I worked with every day. I should have demanded an apology. I should have told that doctor [in a loud voice] that he had the tact of a fart in a lift. I should have told that doctor that he was a jumped up little prick. I should have told that doctor he had the bedside manner of a warthog. But I was too stunned. I left without donating.
I have never donated since.
So, to all the people who might have benefitted since from my donations, I am sorry. Blame that little shit of a doctor.
And to that little shit of a doctor I say "Think first before you open your mouth. Words have the power to brand people. Words have the power to hurt unintentionally. Words can cut deeper than any scalpel. A word once spoken cannot be unspoken, and can do irreparable damage."
I often wonder about that baby. Did he or she grow up to be a happy teenager? I hope so. I'm sure he or she never gives me a thought. I don't care. I still get a little warm glow from time to time.